Front cover: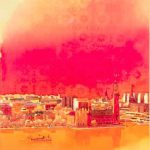 Nina Johansson
Nina Johansson
by Håkan Bull
Drawing is the foundation of painting and Nina Johansson says that the more she draws from observation the more she understands the world. Colouring and lines play an equally important role in the watercolour works. She is a skillful watercolourist and she also has a deep understanding of how to balance exact and inexact lines in her drawings. Key words of her work are "observation" and "constant practice". She is a member of the international network of "Urban Sketchers" who travel around the world drawing, painting, and sketching together. She also teaches information design and illustration in a Swedish High School. As an urban sketcher she aims to be true to her motif, depicting what she sees. At the high school she teaches quite concrete subjects such as perspective, colour theory, science illustration, graphic form, 3D-modelling and such. When she feels like breaking free of exact observations and details, she will adopt a more free and random style using her vivid imagination to create surreal cityscapes and existential image philosophies with a great sense of humour.
Solveig Bergene
by Live Sætre
Solveig Bergene completed her Master at the Art Academy of Bergen in 2012 with a 4,5 metre long pencil drawing of a baby whale. After having refined her precise drawing technique she sought new challenges and began to paint watercolour instead. Her watercolour works are a combination of strict geometry and free imagination. All paintings have an underlying geometric structure in which she places her imaginative figures including hares, insects and undefinable animals. She is very interested in natural science and has particular affection for ancient natural history. The inspiration to the leaves, plants, animals and insects often come from old posters that she traces onto the paper before further elaboration and transformation. Her paintings seem airy and mystical due to the use of transparent paints in many thin layers, and the painting method also creates and illusion of old and faded illustrations.
Tyra Kleen
by Jacqueline Stare
When Tyra Kleen died at the age of 77 in 1951 she bequeathed all her belongings to "Riddarhuset" under the condition that her paintings not be shown in public until 2001, 50 years later. She was a versatile illustrator and graphic designer as well as a skilled portrait painter. She traveled alone through Asia in 1919-1921 and also held speeches and wrote a number of books apart from exhibiting her work in Sweden and around the world. Many of her most intriguing works were very symbolic and her works from Bali and Java were exquisite ethnografic renderings which were shown at the Victoria and Albert Museum in London in 1923. Her family was aware of her artistic talents and financed her education which took place in Dresden, Karlsruhe, Munich and Paris and Rome from the age of 16. Due to an inheritance she was able to get by as an independent woman and artist and chose never to marry. She kept a house in Sweden but continued to travel the world for long periods at a time. She had a strong and complex personality and even though one must admire her renditions of various cultures from her travels, it is when she paints portraits of those near and dear to her, that she is most convincing as an artist.
The Gerlesborg School in Bohuslän
by Karin Faxén Sporrong
During this 30th anniversary of the Nordic Watercolour Society there is good reason to remind of the Gerlesborg School, an institution that together with the Nordic Watercolour Museum in Skärhamn, has had significant connection with the Nordic Watercolour Society. When the Nordic Watercolour Society was founded in 1989 it was under the strong influence of Arne Isacsson who had founded the Gerlesborg School in 1944. In the beginning only summer courses were held but many pupils attended the popular courses for years in a row. It is said that the 50's was the golden age of Gerlesborg. Watercolour was always favoured by Arne Isacsson and for a long time many of the best watercolour instructors held courses here. In 1958 the school expanded with a branch in Stockholm and from 1984 the school offered a 2-year basic art training. There have been ups and downs in the school's history and right now the future unfortunately does not look too bright. Maybe it is time once again to redefine aims of the Gerlesborg School.
Summary by Marianne Gross