NAS uddeler to stipendier til kunstnere, som har gjort sig særligt bemærket med akvarelmediet som udtryksform. Derudover tildeler Nordiska Akvarellmuseet årligt en residens til et NAS-medlem.
Winsor & Newton Priset som uddeles en gang om året, som regel ved foreningens årsmøde. Prisen sponseres af Colart, som ejer varemærket Winsor & Newton. Firmaet uddeler farver/materialer for prissummen.
Arne Isacsson Prisen er et kontant beløb som uddeles med mellemrum, når AI Fondens styrelse udser en passende prismodtager. Fondens indtægter stammer fra frivillige bidrag. Alle er velkomne at indsætte et valgfrit beløb til fonden på NAS bankgiro 5128-8355. Skriv "AI fond" på talonen.
AVARELLRESIDENS på Nordiska Akvarellmuseet i Skärhamn tildeles årligt af museet til et af selskabets medlemmer efter en ansøgningsprocedure.
NAS awards 2 prizes to outstanding watercolour artists. Furthermore the Nordic Watercolour Museum grants an annual artist residency to a member of NAS
The Winsor & Newton Prize is awarded annually. Colart, the owner of the Winsor & Newton brand, sponsors watercolour art materials to the award winner.
The Arne Isacsson Prize is a sum that is awarded when the board of the foundation finds a suitable award winner. The prize is funded by private donations. If you wish to contribute, please use the Swedish bank giro 5128-8355 and write AI Foundation in the message box.
WATERCOLOUR Residency at the Nordic Watercolour Museum in Skärhamn is awarded annually to a member of NAS following an open call selection.
Winsor & Newton Prisen
Winsor & Newton Prisen 2023: Margrét Jónsdóttir (Island)
Motivation: "Margrét Jónsdóttir is awarded the Nordic Watercolour Society's Winsor & Newton Prize 2023 for her interesting feminine imagery and her artistic search within watercolour painting."  You may read more about Margrét Jónsdóttir in the article published in akvarellen 3-2021 (please find English summary here).
Prismodtagere
Award winners
Winsor & Newton Priset
2023 – Margrét Jónsdóttir (Island)
2022 – Stina Persson (Sverige)
2021 – Ludvig Sjödin (Sverige)
2020 – Esther Sarto (Danmark)
2019 – Emma Larsson (Sverige)
2018 – Mervi Patala (Finland)
2017 – Annette Bryne (Norge)
2016 – Martha Ossowska Persson (Sverige)
2015 – Linda Ólafsdottir (Island)
2014 – Maria Luostarinen (Sverige)
2013 – Aka Høegh (Grønland)
2012 – Marianne D Solhaugstrand (Norge)
2011 – Guy Frisk (Åland)
2010 – Christina Kynde (Danmark)
2009 – Harpa Arnasdottir (Island)
2008 – Kjersti Rågfelt-Strandberg (Sverige)
2007 – Haruka Kashima (Finland)
2006 – Ørnulf Opdahl (Norge)
2005 – Mats Gustafson (Sverige)
2004 – Christian Lemmertz (Danmark)
2003 – Reidun Torhold (Norge)
2002 – Jørgen Rømer (Danmark)
2001 – Niilo Hyttinen (Finland)
2000 – Kent Lindfors (Sverige)
1999 – Hafstein Austman (Island)
1998 – Hanne Christensen (Norge)
1997 – Seija Vellonen (Finland)
1996 – Leif Lage (Danmark)
1995 – Erland Brand (Sverige)
1994 – Edda Jónsdóttir (Island)
Arne Isacsson Prisen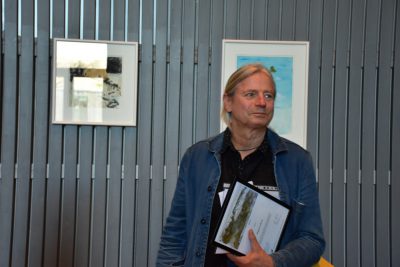 Arne Isacsson Priset 2017: Magnus Berg (SE)
Arne Isacsson Priset tildeltes senest Magnus Berg i forbindelse med fejring af Arne Isacssons 100-års dag i 2017 på Nordiska Akvarellmuseet i Skärhamn. Her ses han ved nogle af billederne på sin miniudstilling på Akvarellmuseet.
The Arne Isacsson Prize was most recently awarded to Magnus Berg in 2017 in connection with the celebration of Arne Isacsson's 100th birthday at the Nordic Watercolour Museum in Skärhamn, Sweden.
Foto: Allan Söderholm
Prismodtagere
Award winners
Arne Isacsson Priset
2017 – Magnus Berg (Sverige)
2013 – Therese Szatek (Sverige)
2010 – Halldór Ásgeirsson (Island)
2009 – Mona Grønstad (Norge)
2008 – Poul Ancher Beck (Danmark)
2007 – Susanna Möller (Sverige) & Anita Midbjer (Sverige)
2004 – Monica Månsson (Sverige)
2000 – Lars Lerin (Sverige)
1997 – Peter Sternäng (Sverige)
AKVARELLresidens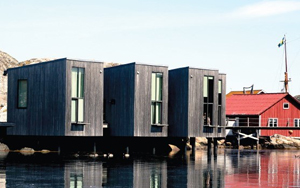 AKVARELLresidens 2023: Ann Larsson-Dahlin
Museets urvalsgrupp motiverar:
Ann Larsson-Dahlin öppnar upp vår blick för naturens storslagenhet. Med svärta och jordfärger låter hon landskapets former flöda fram ur ett intensivt akvarellmåleri. Våra sinnen blir påminda om den fysiska naturen – monumental och skrovlig, fylld av ljus och tyngd. I Larsson-Dahlins akvarellmåleri bjuds vi också in i rumsliga miljöer där ljusförhållanden och interiör skildras på ett känslosamt sätt – stillsamma rum för vår tanke och fantasi. För Ann Larsson-Dahlin är akvarelltekniken självklar, skickligt bemästrar hon dess temperament, det okontrollerade möter det precisa och skapar en alldeles säregen ljusmagi.
ARTIST Residency 2023 has been awarded to Ann Larsson-Dahlin
Prismodtagere
Award winners
AKVARELLresidens

2023 – Ann Larsson-Dahlin (Sverige)
2022 – Johan Mauritzon (Sverige)