Cover photo: Marja Mali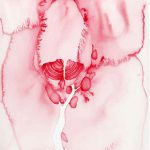 Marja Mali
by Camilla Granbacka
From the beginning of her career Marja Mali grew attached to the abstract, informal style which has been characteristic for many Finnish artists since the 60's. Her works expresses emotions and light is always a main theme. She grasps the beauty of sensual statements with a delight of experimentation and feeling for material giving room for spontaneity. There are many ways of interpreting her paintings, the essential being the moods and inner landscapes, that she tries to convey. Marja Mali finds the physicality of human organs visually inspiring. She studied medical photos and microscopic images which she found beautiful. Lately she has painted a series of large watercolour works of red and pink in organic, sensual floral forms reminding of the works of Georgia O'Keefe. – "It is a great challenge to work with watercolour, but I want to take up the fight and I am still trying to fin my way in this technique. I work slowly and I don't know exactly how the end result will turn out."
Maj-Lis Olsson
by Karin Faxén Sporrong
Maj Lis Olsson is born in Blekinge and it is obvious that this is her place on earth even though she has lived in other parts of Sweden during education and jobs. She has recently retired as operations manager in Blekinge council and now she is preparing for spending her time wholly on watercolour and art. As many other people from this rocky landscape, Maj-Lis Olsson has many stonecutters in her family and as a child she was very fascinated by stone as a material. For a period she painted many stones, investigating their subtle colour tones and forms. She oftens works in series in which the work with the chosen subject matter leads to more and more abstractions. "What pleases me the most is the movement of the pigment an the water. The conflicts. How they are resolved. I want to take part in the process. The excitement of the unpredictable. To have the possibility of affecting what will happen. The smallest actions in the painting process can change everything."
Morten Langhoff
by Live Sætre
"It has to be fun. You must always explore new territory, do not repeat yourself" This is Morten Langhoff's motto. He has a varied background as an oil painter and a master degree in architecture among other things. He lived to Paris for 12 years and during this time he was invited to participate in a prestiguous show for drawing and watercolour works, which is why he took up watercolour painting. He still makes oil paintings and also graphic prints. He was educated at Academie de Port-Royal, Paris and later at Ecole Na­tionale Superieure des Beau Arts, Paris. Later on he studied art history at the university in Bergen. In 1996 he began teaching at an Art School in Oslo and he has continued teaching ever since. All his watercolour works are quite large. Many have silhouette figures placed upon landscapes, cityscapes or architecture. He sometimes splits the work in two parts: the actual subject matter on one side and a closeup of one of the main elements – as a contrast between close-up and far away – on the other side.
Ricardo Donoso, Edsvik Art Hall
by Jacqueline Stare
Recently Ricardo Donoso was compelled to declare bankruptcy on the Edsvik Art Hall after 14 years of brilliant exhibitions with Swedish and international artists and many other activities. For everyone with an interest in watercolor, Ricardo Donoso and his long-standing support for watercolor art exhibitions and events have been incredibly important. Before taking over at Edsvik he founded Väsby Art Hall 25 years ago where he got into contact with Arne Isacsson and later on such renowned Swedish watercolour artists as Anders Wallin and Lars Lerin who have been recurring exhibitors in Edsvik. Ricardo Donoso and his staff – supported by the artists – worked hard through and with much passion through all the years to try and make everything work. Edsvik Art Hall had a co-operation with the Nordic Watercolour Museum in Skärhamn as well as with the Nordic Watercolour Society. Ricardo Donoso came to Sweden as a refugee from Chile (via Romania) in 1975 and built up a living and a good reputation in the Swedish art world from which he now must take a break. He hopes to be able to return with new art projects in Edsvik in the future.
Test of cadmium-free watercolours from Winsor & Newton
by Marianne Gross
Following several years of research Winsor & Newton have now introduced the new range of cadmium-free watercolours which NAS has had the opportunity to test. We asked 4 artists to test the paints and to share their experiences with our readers: Mona Sloth (Denmark), Karin Keane (Norway), Björn Bernström (Sweden), and Lars Eje Larsson (Sweden). All the test persons found the new cadmium-free paints to a great extent have the same properties as the traditional cadmium paints and seem to have the same hues and intensities as the paints they are meant to replace.
You may find photos on our blog: www.nordicwatercolour.wordpress.com
Nordic Watercolour 2019 – Tykö, Finland
by Marianne Gross
More than 100 people had found their way to Tykö Masugn in the Finnish town Teijo to participate in the opening of Nordic Watercolour 2019. All visitors were granted a gift from the main sponsor, Winsor & Newton, who had arranged for "dot cards" with samples of the new cadmium-free series. Winsor & Newton also donated 12 goodie-bags which were distributed among the guests by lottery they had selected their favourite among the works in the exhibition: Marja Mali was granted the Winsor & Newton Watercolour Award. If you want to buy the catalogue (19 euros + postage) please contact Pive Toivonen. The exhibition can be seen till 31 May 2020
Watercolour Day celebrating NAS 30th anniversary
by Håkan Bull
All guests had to register with "The Head of the De­partment of Watercolor" (artist Anna Sörensson Rydh) and became part of a humorous interactive art performance regarding the unwritten rules of watercolour. Visitors had to answer questions such as: Do you use black paint? Do you use opaque paints? The artist then awarded medals for "correct" answers. In the opening speech, Håkan Bull presented the participating artists Linda Granfors, Aura Hakuri, Emma Larsson, Gunnel Moheim and Anna Sörensson Rydh. The exhibition showed watercolour works on paper as well as shawls and tunics from the fashion company Artpiece. The design of the textiles originate from watercolour works. Linda & Aura made a watercolour performance. Once again the artist Fredrik Thorsén from Winsor & Newton was present to lead the workshop where the participants among other things could test the new cadmium-free colours from Winsor & Newton. There was a workshop competition as usual and the winner this year was Maria Luostarinen with a small abstract watercolour work inspired by the silk tunics from Artpiece.
NAS in international exhibitions in Wales and Australia
by Marianne Gross
Wales: The exhibition "Nordic Connections" with invited artists from the Nordic Watercolour Society and the Royal Watercolour Society of Wales can be seen at "y Gaer" Museum and cultural hub in Brecon, Wales until 21st March 2020. List of exhibitors on the website: https://akvarellen.org/nas-rwsw
Australia: NAS were invited by the Watercolour Society of Western Australia to send five watercolor works to the "Interna­tional Watercolour Exhibition Fremantle", which opens on 13th March with more than 150 Australian and international exhibitors. The exhibition can be seen till 13th April. The board selected one from each of the Nordic countries to represent NAS:  Ann Larsson-Dahlin (SE), Bryn­hildur Friðriksdottir (IS), Ane Grete Aagaard (DK), Helena Cederberg (FI), Vibe Henriksen (NO). More info here: https://watercolourswa.org.au/
Tip from the editor
by Håkan Bull
Until 19th April the the Hall of State at the Royal Palace in Stockholm exhibits app. 60 rugs and other works by the Swedish textile artist, Märtha Måås-Fjetterström (1873–1941). She started creating rugs and textiles in her studio in 1919. And what do Märtha Måås-Fjetterström's rugs have to do with watercolour painting? The fact is that all her textiles are based on watercolour works, and watercolour drawings were essential to her design and artistic expression.
Summary by Marianne Gross