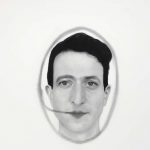 Omslagsbild:
Maria Nordin, Follow the Line I, 2017. Akvarell på papper, 53×42.5 cm. Foto/Courtesy of: Galleri Magnus Karlsson

Maria Nordin
by Joanna Persman
The human body is the focus of Maria Nordin's art and 10 large works will become the centre-point of her exhibition at the Nordic Watercolour Museum in 2018. At a young age Maria Nordin was the victim of a car accident, not a serious one in terms of physical mutilations, but the experience left a deep psychological mark. In her paintings the skin of the portrayed bodies melts together with the paper and any small flaws in the paper will seem like blemishes of the skin. She has created large paintings with so much pink skin, that it becomes almost too intimate for the spectator. Normally you would only come this close face-to-face to a loved one or an enemy. In 2017 she painted a series where the body was more geometrically stylized, but the most recent works are back to being almost photo-realistic. The evolving theme is objectification. The body becomes an object in art and in everyday life and for our selves. Social media and the narcissistic selfie culture has transformed our life in many ways and we are able to edit the images of ourselves to suit the current perception of beauty.
Pive Toivonen
by Håkan Bull
"Navigare necesse est – to sail is necessary" could be the saying for Pive Toivonen's lifestyle as well as her art. In 2012 she and her ex-husband sailed round Europe and North Africa for 13 months visiting as many islands as possible. Watercolours and texts from the log book were afterwards published in the book "Atlantin viemää" ("Gone with the Atlantic). This journey is one of many she has documented in art. She fell in love with sailing as a child and has visited many small islands in the archipelago of Åland and Finland. Portraits of the islands are not scientific or realistic documentations but artistic renditions. Some are with a fish-eye view, others are painted as seen from above and sometimes she includes charts from the places she has visited. Pive Toivonen's art practice can be seen as a personal poetic and artistic expedition and maybe her art actually is a never-ending self-portrait, for as it has been said: "Every man is an island".
Malin Redvall
by Jacqueline Stare
Malin Redvall grew up in Sweden, she has studied in Sweden, Norway, and Denmark, and she has now been living in Norway for the last 20 years. Even though she has always drawn and painted, she was initially educated in music and drama as well as graphic design at a later stage. For many years she worked as a composer and among other jobs she made graphic design for WWF Norway. As a child Malin Redvall went on a trip to Italy with her architect mother. The accompanying professor said that one must draw something to truly understand the figure and the form. This is a statement she has always remembered. She left the theatre in 2004 and took up painting again, and attended courses by Hasse Karlsson, Monica Månsson and Lars Holm, all much sought-after watercolour teachers. One of her recurring themes is sea birds, but essential for Malin Redvall is to work with the light and the changes in the weather and the wind. Her paintings cover the whole spectre: controlled graphic illustrations, classic watercolour technique, and flowing loose works where happy accidents are allowed to play an active part of creating the works.
Derek Mundell
by Marianne Gross
Derek Mundell was born and raised in England but emigrated with his Icelan­dic wife to her home country and has been gradually adapting to Iceland for the past forty years. In 2007 Derek Mundell was still a leisure painter when he received an offer to take over the teaching of watercolour classes at the Adult Education Centre where he has been teaching five fully-booked classes every term since then. 2018 will be his last year in regular teaching. Derek Mundell is a figurative painter, and a very skillful one. His works can be breathtakingly beautiful as he captures the light of the scenery he is depicting. Most of his paintings are landscapes, but they convey a state of mind. He varies between minute details and a loose style that can be seen as almost abstract, though it never results in what you might call geometrical abstracts. Inspired by a novel by the Icelandic author Thor Vilhjálmsson he has taken specific interest in painting Icelandic moss for the last couple of years.
Lars Lerin at Liljevalchs in Stockholm
by Jacqueline Stare
During the summer of 2018 the watercolour and photographic works of Lars Lerin filled the rooms at Liljevalch Art Hall in Stockholm. Lars Lerin is one of the most famous and cherished contemporary Swedish watercolour artists as well as a TV-personality and a succesful author of more than 50 books. The exhibition showed very large watercolours that almost seem three-dimensional among them a birch forest and war paintings from Syria. There was the painting of windows in an opposite building inspired by a Hitchcock film and the 24-metres series of book shelves from a library. It is incredible that Lars Lerin is so productive and so creative. Apart from painting he is engaged in many other activities, but still maintains the sensitivity, skill and quality in all he does.