Fotos + rapport fra udstillingen på bloggen – Photos and report from the exhibition on the blog:
Nordisk Akvarell 2019
218 personer har sänt inn 624 verk. 68 personer blev antagna med 91 verk. Grattis til dom, som ble antagna, og tack till alla som sänte inn bidrag.
Utställarliste herunder.
Utställning i Tykö Masugn, Teijon Masuuni 17, 255 70 Teijo Finland, 24.11.2019-31.05.2020
English version
218 artists submitted 624 watercolour works. 68 artists were accepted with 91 works. Congratulations to all accepted artists, and thank you all for submitting entries to the jury. List of exhibiting artists below.
Exhibition at Tykö Masugn, Teijon Masuuni, Telakkatie 17, 255 70 Teijo, Finland, 23.11.2019-31.05.2020
Utställarliste/Exhibiting artists:
Anders Andersson – Sverige
Anita Midbjer – Sverige
Ann Larsson-Dahlin – Sverige
Ann-Ci Lifmark – Sverige
Annemarie Jepsen – Danmark
Annette Sjølund – Danmark
Annika Mikkonen – Sverige
Astrid Edel Walter – Norge
Bjørn Imislund – Norge
Carina Köster – Sverige
Christina Kynde – Danmark
Eeva-Liisa Pettersson – Sverige
Elizabeth Tyler – Sverige
Erna Calderon – Sverige
Eva Sandström – Sverige
Evy Kleveland – Norge
Ewa Helzén – Sverige/Malta
Hans Kihlén – Sverige
Hans Persson – Sverige
Herman Heijmans – Sverige
Hjördis Inga Ólafsdóttir – Island
Ingeborg Breder – Norge
Inger Strömberg – Sverige
Ingvar Hansson – Sverige
Jan Fagerholm – Sverige
Jenny Sundskogen Andersson – Sverige
Jessica Andersson – Sverige
Jessica Stuart-Beck – Sverige
Jytte Buhl Jyde – Danmark
Jytte Kristin Eikenes – Norge
Kai Glad – Danmark
Karen Lindberg – Danmark
Karin Feltzing – Sverige
Karin Keane – Norge
Karin Sten – Sverige
Kersti Rågfelt Strandberg – Sverige
Kerstin Gadd – Sverige
Kristina Kostia – Finland
Lars Hansson – Sverige
Lars Johansson – Sverige
Lena Kristiansen – Danmark
Lena Larsson – Sverige
Lisbeth Åkerman – Sverige
Magdalena Malmvall-Nisses – Sverige
Magrét Jónsdóttir – Island
Maj-Lis Olsson – Sverige
Malin Redvall – Norge
Margaretha Jansson – Sverige
Marianne Lehner – Danmark
Marja Mali – Finland
Martin Enander – Sverige
Maya Korlas-Martin – Danmark
Morten Gjul – Norge
Mounir Ben Ammar – Sverige
Roald Grimsø – Norge
Steen Malberg – Danmark
Stefan Gadnell – Sverige
Susanna Geidemark – Sverige
Tania Margolin  – Sverige
Thomas Distler – Sverige
Timo Horne – Sverige
Toril Kojan – Norge
Tua Mylius – Finland
Ulla Mortensen – Sverige
Victoria Yaroshik – Finland
Viera Larsson – Sverige
Ylva Molitor-Gärdsell – Sverige
Yulia Fan – Russia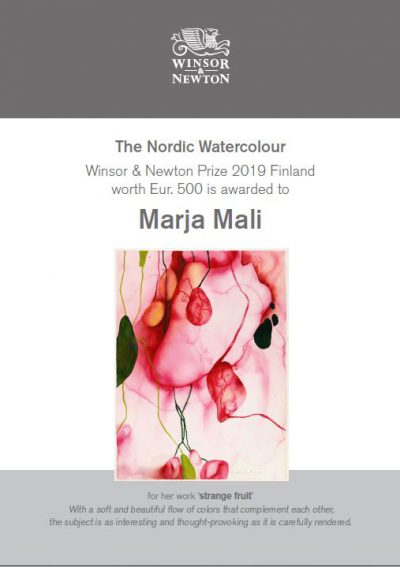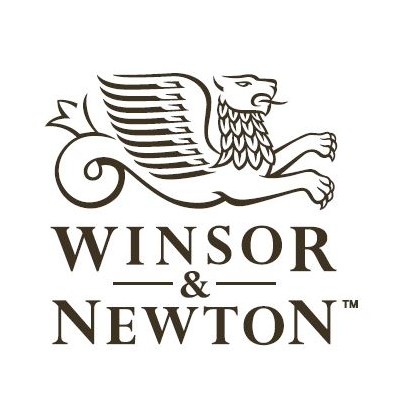 Marja Mali tildelades Winsor & Newton Nordic Watercolour Award på vernissagen
Marja Mali was presented with the Winsor & Newton Nordic Watercolour Award at the opening reception
The Winsor & Newton Nordic Watercolour Prize is awarded to Marja Mali (FI) for her work "Strange Fruit" with the following motivation:
"With a soft and beautiful flow of colours that complement each other, the subject is as interesting and thought-provoking as it is carefully rendered".
The award winner is presented with Winsor & Newton artists materials of her own choice at a value of 500 Euros.
Congratulations to Marja Mali!